* Product image may differ from original
Highlights
Food grade
versatile applicable
preservative
Properties
Scope :
chemical-technical, Food
Hazardous material labeling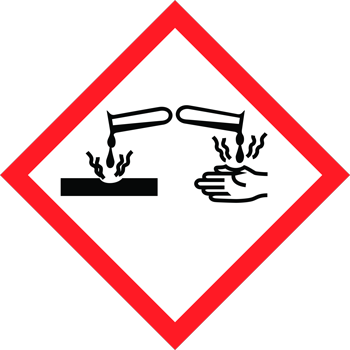 Approved as food additive E 260 for food and cosmetic...
more
Product information "Acetic acid, 60% (E 260) - food grade (5 kg)"
CAS-Nummer: 64-19-7
Synonym: Acetyl acid, ethanoic acid, Acidum aceticum,
Approved as food additive E 260 for food and cosmetic applications.

Application

As a natural acid, acetic acid 60 % offers a wide range of applications in the food sector. It is used, for example, as an acidifier in pasta or as a preservative in preserves. It is also used as an additive in the manufacture of dairy products or in cosmetics as an acidity regulator and in the production of stable suspensions. It is approved as E 260 in the EU. Furthermore, acetic acid 60 % is used in cleaning formulations and is used for decalcification. In addition to these properties, applications are also common where Acetic Acid 60 % is used as a biogenic herbicide, although commercial use as a herbicide is not permitted in enclosed areas.

Precautions

Wash hands and other exposed body parts with mild soap and water before eating, drinking, or smoking and when leaving the work area. Provide process area with good ventilation to prevent formation of vapors.

Hazard statements

H226 Flammable liquid and vapor. H314 Causes severe skin burns and eye damage.

Safety advice

P210 Keep away from heat, hot surfaces, sparks, open flames and other ignition sources. Do not smoke.
P280 Wear eye protection/face protection/protective gloves/protective clothing.
P305 + P351 + P338 + P310 IF IN EYES: Rinse cautiously with water for several minutes. Remove any contact lenses if possible. Continue to flush. Call doctor/ POISON CENTER immediately.
P301 + P330 + P331 + P310 IN CASE OF INSPECTION: Rinse out mouth. Do NOT induce vomiting. Call a doctor immediately.
P303 + P361 + P353 + P310 IF ON SKIN (or hair): Remove all contaminated clothing immediately. Wash skin with water or shower. Call a physician immediately.

Additional Information

Acetic Acid 60% can be produced like other organic acids - to ferment. In addition, acetic acid is now produced by oxidation of ethylene. In addition, there are a number of other manufacturing processes for this product. Acetic acid and its derivatives (salts, polymers, etc.) are thus important raw material components for the chemical industry.

Storage

Store only in the original container in a cool, well-ventilated place. Keep container closed when not in use.
Related links to "Acetic acid, 60% (E 260) - food grade (5 kg)"
Available downloads:
Read, write and discuss reviews...
more
Customer evaluation for "Acetic acid, 60% (E 260) - food grade (5 kg)"
Write an evaluation
Evaluations will be activated after verification.
Do you have questions about the product?
free of charge from the German landline network
over 100 years of experience - together with our partners
chemiekontor.de Best Price Promise
You have found the same product cheaper elsewhere or already have an offer?
Then talk to us. And we promise you that we will try everything to get your desired product for you at the best price.
© 2019 - 2023 chemiekontor.de GmbH
All prices are in Euro (€) excl. VAT and shipping costs.