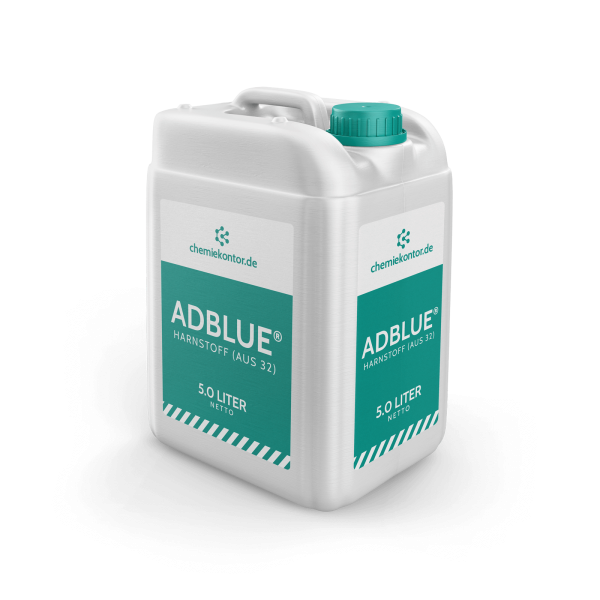 * Product image may differ from original
Highlights
for use in suitable diesel engines
reduces pollutants by up to 90
weather resistant
Properties
Physical form at room temperature :
liquid
Scope :
chemical-technical
Hazardous material labeling
For the use of diesel vehicles with SCR technology Application AdBlue® helps to reduce...
more
Product information "AdBlue® Urea solution (AUS 32) (5 liter)"
For the use of diesel vehicles with SCR technology

Application
AdBlue® helps to reduce pollutant emissions in automobiles. This is done by SCR technology. With the help of the latest catalysts developed for diesel engines, also called SCR catalysts, nitrogen oxides can be converted into harmless water vapor and nitrogen. This is achieved by means of the urea solution AdBlue®, which is dosed into the catalytic converters and thus sets the chemical process in motion. This reduces the emission of harmful nitrogen oxides by up to 90 %, enabling compliance with the Euro 6 emissions standard.
AdBlue® can withstand all weather conditions within Europe and can therefore be used without any problems. At temperatures below -11 °C, the product freezes. It is therefore essential to use heated AdBlue® pumps in the Nordic and colder countries. Some SCR trucks have special heating systems, which allow the operation of the SCR system, even at colder temperatures.
Application areas of the product are vehicles powered by diesel engines: Cars, trucks and agricultural vehicles such as tractors.
Precautions

Wash hands and other exposed body parts with mild soap and water before eating, drinking or smoking and when leaving the workplace. Provide process area with good ventilation to prevent formation of vapors.


Hazard statements

No labeling required.


Safety information

No labeling required.


Further Information
Should only be used in vehicles with diesel engines and SCR technology in accordance with the manufacturer's instructions for use. It is imperative to avoid filling AdBlue® directly into the diesel tank, as this will cause severe engine damage. The tank intended for this purpose is marked. Since AdBlue® is not produced from recyclable agricultural products, it is important that there is always enough AdBlue® in the tank.
Even if AdBlue® freezes, the product is not damaged and can be reused after thawing.

Storage

Store only in the original container in a cool, well-ventilated area. Keep container closed when not in use. Avoid direct sunlight.
Storage of AdBlue® proves to be very simple as it can be stored at room temperature. Ideally, the storage temperature should be around 25 °C. At temperatures below minus 11 °C, AdBlue® crystallizes. Depending on the storage location, the product has a shelf life of approx. 18 - 36 months. AdBlue® is not a hazardous material and is classified in the lowest water hazard class 1.
Related links to "AdBlue® Urea solution (AUS 32) (5 liter)"
Available downloads:
Read, write and discuss reviews...
more
Customer evaluation for "AdBlue® Urea solution (AUS 32) (5 liter)"
Write an evaluation
Evaluations will be activated after verification.
Do you have questions about the product?
free of charge from the German landline network
over 100 years of experience - together with our partners
chemiekontor.de Best Price Promise
You have found the same product cheaper elsewhere or already have an offer?
Then talk to us. And we promise you that we will try everything to get your desired product for you at the best price.
© 2019 - 2023 chemiekontor.de GmbH
All prices are in Euro (€) excl. VAT and shipping costs.