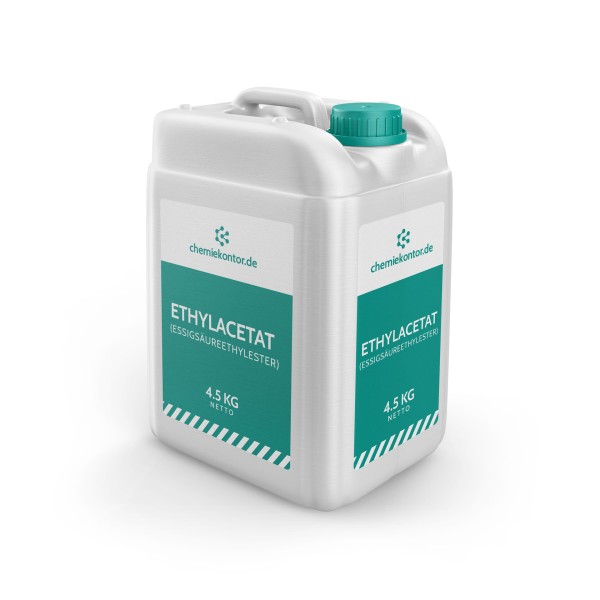 * Product image may differ from original
Highlights
colorless
liquid
fruity-sweetish odor
Properties
Physical form at room temperature :
liquid
Scope :
chemical-technical
Hazardous material labeling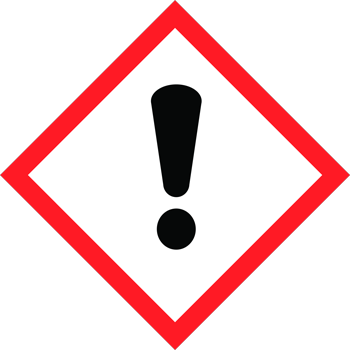 For chemical-technical applications. Application Ethyl acetate or acetic acid ethyl...
more
Product information "Ethyl acetate (ethyl acetate) (4,5 kg)"
CAS-Nummer: 141-78-6
Synonym: Acetic acid ethyl ester, acetic ester, ethyl
For chemical-technical applications.
Application
Ethyl acetate or acetic acid ethyl ester or acetic ester, is formed during the esterification of acetic acid and ethanol. Ethyl acetate is a colorless liquid with a characteristic fruity-sweet odor. In the chemical industry, ethyl acetate is mainly used as a solvent. Most users will be familiar with it as a cosmetic product due to its high dissolving power: As a nail polish remover.
In this sense, ethyl acetate is one of the most versatile solvents and also offers very good performance in extraction processes. For example, ethyl acetate is used for decaffeinating coffee or extracting natural flavors used for flavoring beverages. In addition, ethyl acetate is used in the production of pharmaceutical extractions and is used in the manufacture of adhesives in all areas.
In electrical engineering, it can be used as an electrolyte - in the manufacture of electricity storage devices - because it enables stable processes even at low temperatures. However, this has the disadvantage of low energy density.
Precautions
Wash hands and other exposed body parts with mild soap and water before eating, drinking or smoking and when leaving the workplace. Provide process area with good ventilation to prevent formation of vapors.
Hazard statements
H225 - Highly flammable liquid and vapor.
H319 - Causes severe eye irritation.
H336 - May cause drowsiness and dizziness.
Precautionary statements
P210 - Keep away from heat, hot surfaces, sparks, open flames and other ignition sources. Do not smoke.
P301+P330+P331 - IN CASE OF INSPECTION: Rinse out mouth. DO NOT induce vomiting.
P303+P361+P353 - IF ON SKIN (or hair): Remove all contaminated clothing immediately. Wash skin with water.
P304+P340 - IF INHALED: Remove person to fresh air and ensure unobstructed breathing.
P305+P351+P338 - IF IN EYES: Rinse cautiously with water for several minutes. Remove any contact lenses if possible. Continue to rinse.
More Information
Ethyl acetate is present in very small amounts in some alcoholic beverages. For example in rum or in wine. In wine, however, this is naturally perceived as a disadvantage. In this case, it is referred to as a solvent tint. This flavor anomaly occurs due to rot in the pressed grapes or because the grape harvest was exposed to a hailstorm.
Storage
Store only in the original container in a cool, well-ventilated place. Keep container closed when not in use. Avoid direct exposure to sunlight.
Related links to "Ethyl acetate (ethyl acetate) (4,5 kg)"
Available downloads:
Read, write and discuss reviews...
more
Customer evaluation for "Ethyl acetate (ethyl acetate) (4,5 kg)"
Write an evaluation
Evaluations will be activated after verification.
Do you have questions about the product?
free of charge from the German landline network
over 100 years of experience - together with our partners
chemiekontor.de Best Price Promise
You have found the same product cheaper elsewhere or already have an offer?
Then talk to us. And we promise you that we will try everything to get your desired product for you at the best price.
© 2019 - 2023 chemiekontor.de GmbH
All prices are in Euro (€) excl. VAT and shipping costs.