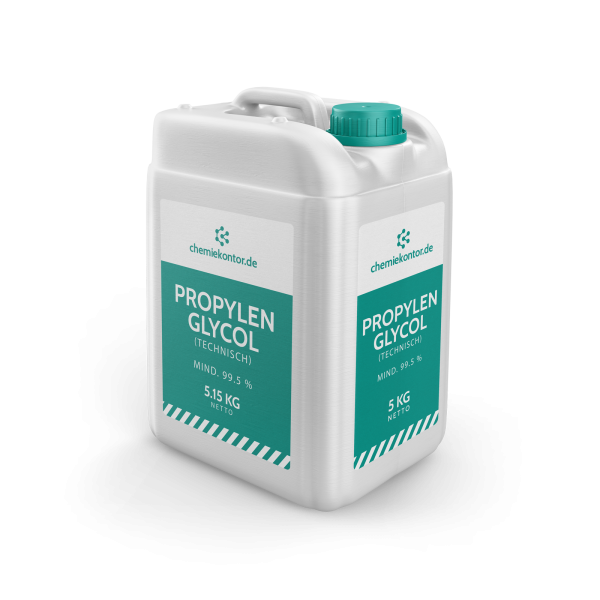 * Product image may differ from original
Highlights
manifold
colorless
odorless
Properties
Physical form at room temperature :
liquid
Scope :
chemical-technical
Hazardous material labeling
For chemical-technical applications. Application 1,2- Mono-propylene glycol or...
more
Product information "Propylene glycol (1,2-propanediol), technically at least 99.5 % (5,15 kg)"
CAS-Nummer: 57-55-6 [Racemat]
Synonym: 1,2-Propandiol, Propylenglykol, 1,2-Propylenglycol
For chemical-technical applications.

Application

1,2- Mono-propylene glycol or 1,2-propanediol known, is a water-clear, colorless and almost odorless polyhydric alcohol. It is highly water-absorbent and, because of its solubilizing and emulsifying properties, is often used as a carrier or solvent for dyes, flavors, emulsifiers and to dissolve enzymes. 1,2-Mono-Mono-Propylene Glycol is approved in the European Union as a food additive as E1520 for food supplements, among others. In the technical field , 1,2-mono propylene glycol in a water-substance mixture is used as antifreeze and as a coolant. Propylene glycol can substitute glycerol in various processing operations and vice versa. Due to its antimicrobial effect, additional preservatives can often be dispensed with when using 1,2-mono-propylene glycol.

1,2-propylene glycol, like ethylene glycol , is particularly suitable as a heat transfer medium in solar thermal applications. As a rule, it is used there as a mixture in the desired concentration. Unlike mono-ethylene glycol, 1,2-mono-propylene glycol is non-toxic and can therefore also be used in cooling systems that are used in the food industry.

Precautions

Wash hands and other exposed body parts with mild soap and water before eating, drinking or smoking and when leaving the work area. Provide process area with good ventilation to prevent formation of vapors.

Hazard statements

No labeling required.

Safety information

No labeling required.

Further information

Contrary to popular belief, 1,2-mono prpylene glycol in its vaporized state can apparently even kill pneumococci (bacteria that cause pneumonia). These, at least, are the conclusions of a study conducted by Dr. Oswald Hope Robertson of Billings University in Chicago back in the 1940s. In this study, streptococci and pneumococci were exposed to steam and could thus be significantly reduced. (Source: https://www.reddit.com/r/ALLABOUTECIGS/comments/1c51o5/1942_study_conducted_by_dr_oswald_robertson_at/)

Storage

Store only in the original container in a cool, well-ventilated area. Keep container closed when not in use. Avoid direct sunlight.
Related links to "Propylene glycol (1,2-propanediol), technically at least 99.5 % (5,15 kg)"
Available downloads:
Read, write and discuss reviews...
more
Customer evaluation for "Propylene glycol (1,2-propanediol), technically at least 99.5 % (5,15 kg)"
Write an evaluation
Evaluations will be activated after verification.
Do you have questions about the product?
free of charge from the German landline network
over 100 years of experience - together with our partners
chemiekontor.de Best Price Promise
You have found the same product cheaper elsewhere or already have an offer?
Then talk to us. And we promise you that we will try everything to get your desired product for you at the best price.
© 2019 - 2023 chemiekontor.de GmbH
All prices are in Euro (€) excl. VAT and shipping costs.