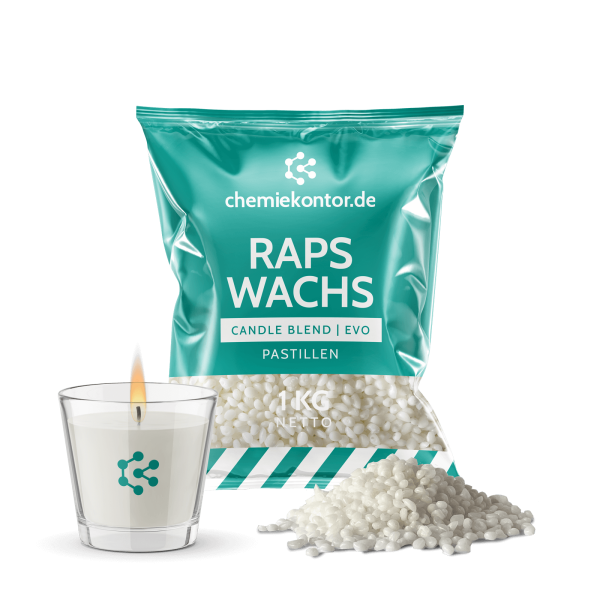 * Product image may differ from original
Highlights
unique
natural
sustainable
Properties
Hazardous material labeling
Application: The newly developed rapeseed wax Candle Blend EVO is particularly...
more
Product information "Rapeseed wax Candle Blend EVO (1 kg)"
CAS-Nummer: 68002-70-0

Application:
The newly developed rapeseed wax Candle Blend EVO is particularly suitable for the production of candles. It is the organic, natural alternative to petroleum-based substances such as kerosene. Through our continuous product improvement and constant recipe optimization, we offer with the purely vegetable rapeseed wax Candle Blend EVO the ideal product for the production of pillar candles, shaped candles (bubble candles) and other natural candle products. Its very good demoldability and easy processing, allow individual candle production at the level of manufactures and in the hobby sector. There are no cracks as well as no extreme shrinkage. With Rape Wax Candle Blend EVO, optimal results can be achieved when used correctly. It is excellently suited for sensitive users due to its neutrality. The fine surface structure and a very noble ivory shade provide extremely high quality organic candles.
Precautions:
Wash hands and other exposed body parts with mild soap and water before eating, drinking or smoking and when leaving the workplace. Provide process area with good ventilation to prevent formation of vapors. Do not expose to open flames. Do not smoke. Use only non-sparking tools. Avoid inhalation of dust/fume/gas/mist/vapor/aerosol. Use only outdoors or in well-ventilated areas. Wash hands, forearms and face thoroughly after use.
Hazard statements:
No labeling required.
Precautionary statements:
No labeling required.
Additional Information:
Canola wax Candle Blend EVO is a blend of canola wax and other natural ingredients. It is more environmentally friendly than kerosene wax and has comparable properties with a melting point of approx. 60° C. It also has an agile, fast melting point. Furthermore, it has an agile shrinkage behavior, which simplifies the production of cast candles.
Related links to "Rapeseed wax Candle Blend EVO (1 kg)"
Available downloads:
Read, write and discuss reviews...
more
Customer evaluation for "Rapeseed wax Candle Blend EVO (1 kg)"
Write an evaluation
Evaluations will be activated after verification.
Do you have questions about the product?
free of charge from the German landline network
over 100 years of experience - together with our partners
chemiekontor.de Best Price Promise
You have found the same product cheaper elsewhere or already have an offer?
Then talk to us. And we promise you that we will try everything to get your desired product for you at the best price.
© 2019 - 2023 chemiekontor.de GmbH
All prices are in Euro (€) excl. VAT and shipping costs.